…the next best thing to being in Munich!
 RULES & GUIDELINES 
No Refunds or Exchanges
12 & under get in free when accompanied by an adult
All Ages Welcome until 9pm each night (all minors must leave the premises by 9pm)
Rain or Shine
Everyone subject to search & metal detector scanning upon entry
Do not remove your festival admission bracelet.  It cannot be replaced and you will be denied entry
No unauthorized vending – if you're not a registered vendor you may not sell or distribute anything on the festival grounds
NOT ALLOWED
Bota Bags or Alcohol
Coolers
Drugs & Drug Paraphernalia
Fireworks/Explosives
Knives/Weapons/Guns
Outside Food or Beverage (All bags will be checked)
Professional Cameras
NO PETS allowed inside the Oktoberfest compound (licensed ADA assistants excepted).
ALLOWED
Cigarettes
Digital Cameras (Non-Pro) and disposable Cameras
Fanny Packs
Empty Steins
Sunglasses
Festival Overview
2017 Dates: Sept 29-30  |  Oct 6-7  |  Oct 13-14
Friday $10 6pm-Midnight, Saturday $20 noon-1am, Children under 12 free with an adult 
Leavenworth Oktoberfest is proud to honor our Military! Active Military with ID and their family members with Active ID get in free at the gate when they show their Active ID (must have your Military ID) 
We also offer free admission to Retired Military with ID
Top 10 Things You Should Know About the Leavenworth Oktoberfest
1- The ticket price is just your admission into the event.  Food/Beverage tickets are sold separate once you're inside the gates.
2- Tickets are available online or at the gate.  If you decide to purchase at the gate…its cash only.  Pre-sale/online tickets go on sale around the end of August each year.  The tickets are printed off at home or use the selfie app. Please remember there are NO REFUNDS on Tickets purchased.
3- Once you're inside the gates find a ticket line and purchase your meal and drink tickets.  There are cash and credit card lines.  
4- Get your official Oktoberfest Souvenirs early for best selection. Available at the East and West Gates
5- You can move around and visit all 4-Venues each offering non stop live entertainment
6- Each Venue has food and beer lines
7- Your wristband gets you in and out of the Oktoberfest gates
8- Sorry- No Pets allowed inside the Oktoberfest gates
9- Minors are only allowed with an adult until 9 pm each night
10- Every Saturday at noon is our procession down Front Street with the keg tapping ceremony at 1 pm in the Festhalle
Remember to book your hotel early…things fill up fast!
Try Wenatchee hotels if you cant find anything in Leavenworth.
There is a shuttle that works the area for a small fee. 
Take a closer look at the Oktoberfest compound click here Venue Map
We are committed to providing a safe, welcoming and family friendly atmosphere for all attendees!  To ensure a safe and fun Oktoberfest for everyone, each and every attendee must abide by the rules.
Enjoy the relaxed festival atmosphere, but be proactive about the security of your belongings.
Anyone caught selling or distributing illicit substances will immediately have their wristband cut and be ejected from the festival. Further legal repercussions are likely.
Rules may be updated with little to no notice. Please check back as the festival grows & develops for updates.
Whats New
The Leavenworth Oktoberfest wants everyone to have a great time this year at our festival!  Please remember to drink responsibly and be kind to those around you.  We also want to advise you that the City of Leavenworth will be enforcing a higher compliance and tighter enforcement on public urination, indecency and alcohol consumption ordinance. 
Attention all Artists and Graphic Designers! 
Each year we have a Logo Design Contest! 
The winning logo is featured on everything we do for the year! 
Find out more by downloading the entry form below!
The winner will receive:
$250 Check
Four Tickets to the Leavenworth Oktoberfest (good for either Friday or Saturday nights)
Two Leavenworth Oktoberfest Steins featuring the winning artwork
The Contest will run from November 15th-January 31st.  All designs and an entry form must be received no later than
January 31st to qualify.  Download the entry form below.  For more information you can email Amy at info@leavenworthoktoberfest.com
Entertainment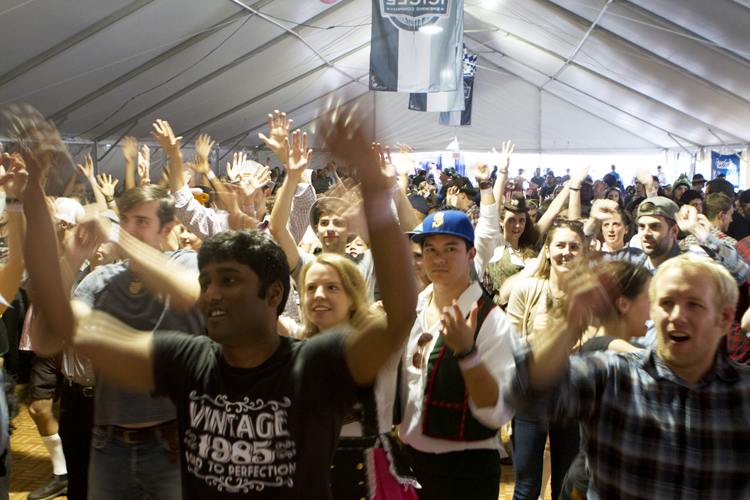 Oktoberfest in Leavenworth is the next best thing to being in Munich! We have four venues with live entertainment and Free Shuttles in Leavenworth (Shuttles are available outside Leavenworth for a fee visit www.leavenworthshuttle.com ), with affordable routes all the way to Wenatchee! 
What ever you do, don't miss our Keg Tapping Ceremony at 1:00 pm every Saturday when Leavenworth's Mayor will honor a Bavarian Tradition of "tapping the keg". Then plan on hanging around and checking out music from our own Musikkapelle Leavenworth who will be joined by other musical groups from the US and Germany.
There is much to see and do at the Leavenworth Oktoberfest! This year we'll have bands from throughout the U.S., Canada and Germany, along with all of your Oktoberfest favorites!  
New Entertainment Schedules will be available around the end of August.  Check back then!
Entertainment Schedule
Venue
Each Venue has live entertainment, food and beer lines!  Stay in one or play in them all!

Opening Ceremony Celebration with Official Keg Tapping
Noon Procession followed by 1:00 PM Keg Tapping Ceremony Every Saturday of the Oktoberfest weekends
The Muenchner Kindl leads the Bavarian procession with the village people carrying our Countries flags. Leavenworth's own Musikkapelle rides in a blue and white colorful band wagon, playing those old familiar and traditional Bavarian marches and polkas. Other villagers and visiting guests will be in colorful traditional Bavarian dirndls and lederhosen.
Following the band is the Edelweiss Tanz Gruppe and the Bavarian style Bier Wagon, beautifully decorated with red and white carnations. There will also be other horse drawn wagons and a carriage carrying Leavenworth's mayor and city officials. The procession starts every Saturday at noon on Ski Hill Drive on Hwy 2 and goes down Front Street to the Festhalle, where the fun begins! 
FOOD & BEVERAGES
Bratwurst on a Bun! Choose it by itself or in a meal including Coleslaw and Beans.

You'll also enjoy mouth watering BBQ Ribs, Turkey legs or Pulled Pork Sandwiches. All available alone or in a meal.Save room for dessert! Try a piece of German style cake with whip-cream or a Mug Root Beer float!

Besides a full section of Beer, we offer Copa Wine, Coffee, Water and Pepsi® products are also in supply.
Family Activities
Oktoberfest in Leavenworth is a festival the whole family will enjoy!
Bring the kids and enjoy Kinderplatz downtown.  Kinderplatz is an area just for kids with climbing wall and bouncy toys, and L-Bow the Clown www.L-BowtheClown.com ; its great fun for kids young and old.
Enjoy Vendor booths with crafts, souvenirs, and German items including great local food favorites and traditional German sausages. There is continuous entertainment with leading German bands, Leavenworth's own Musikkappelle and other musical groups. Dance performance by the Edelweiss Tanz Gruppe.
Thank you to our sponsors